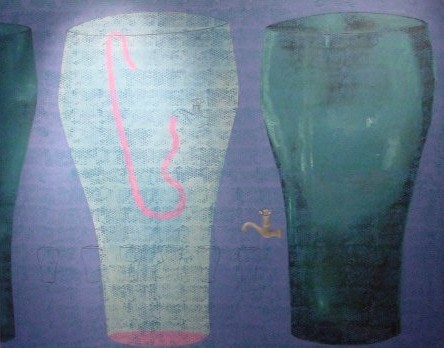 Talwar Gallery is pleased to announce an exhibition of major paintings by Anjum Singh. This is the artist's first solo exhibition in New York, featuring six large paintings created over the previous year. Vibrant and bold, the canvases are dominated by textured patterns that delicately sprawl across each piece.
Honeycombed, rectangular blocks create an environment reminiscent of a bustling metropolis; structured and ubiquitous. Vessels appear to reveal contents full of life at some times, but at others, they are empty, reflective of their surroundings. Each composition, permeated with repeated outlines of objects or interspersed with stenciled text, creates a visceral beckoning of the works. Using objects, words, textures, and delectable color; the artist investigates the transformative power of our surroundings as they isolate, protect, horrify, and shape us, constantly, day in and day out. Situating her work at the threshold between the individual and the collective, the pure and the impure, the inside and outside, she explores urban permeability as well as our own vulnerability.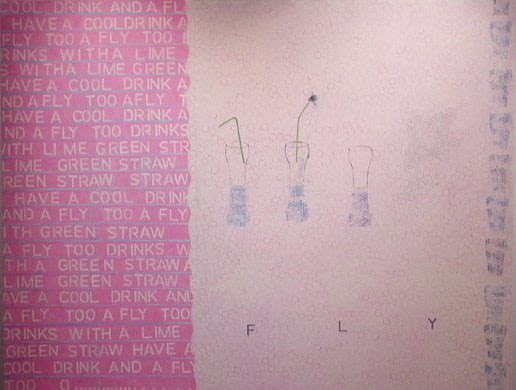 Anjum Singh was born in 1967 in New Delhi, India. She passed away in 2020 in New, Delhi, India. As the only child of two artists, Singh was surrounded by art from an early age. In 1989 she earned a BFA at Kala Bhavan, Santiniketan, before receiving an MFA from College of Art, New Delhi in 1991. Later she continued her education at The Corcoran School of Art, Washington, DC from 1992 to 1994, and was awarded the Charles Wallace Fellowship to work at Gasworks, London in 2002-2003. Her works have been shown in the Prince of Wales Museum, Mumbai, India; at The San Jose Museum of Art, California; Khoj International Artists Workshop, Modinagar, India (2001); and the 7th International Cairo Biennale, Cairo, Egypt (1998). Her works are in the collection of the Kiran Nadar Museum of Art, New Delhi, India.