Talwar Gallery is delighted to present, The Emperor's New Clothes – Dress, Politics and Identity in Contemporary Pakistani Art – an exhibition curated by Atteqa Ali. The exhibition features works by eight contemporary artists from Pakistan: Akbar Ali, Nizakat Ali Depar, Farheen Haq, Ayesha Jatoi, Naiza Khan, Hasnat Mehmood, Adeela Suleman, and Risham Syed.
Clothes, fabric, uniforms, and outfits play important roles for some Pakistani artists offering multifaceted views of their society. The international mass media often portrays Pakistanis in military dress or veiled from head to toe. Pakistani artists today are excavating the complexity of their nation through interrogating and creating layered artworks that adopt an intricately woven visual vocabulary, examining and exploring the politics and society of Pakistan through dress, material, and clothing.
Some works include body armor evoking the protective sensibility of women in an immensely male-dominated society. While others incorporate softer fabric that offers a similar defense; conversely, a lightweight, smooth textile can become a heavy and confining prison. Clothing is symbolic in these artworks; it is a loaded sign associated with distressing societal conditions and current events. It can also talk about journeys and the intricacy of how ideas and items travel in the globalized world. And outfits are linked to the naked body underneath through an unexpected relationship of what should be inside versus outside, visible versus invisible.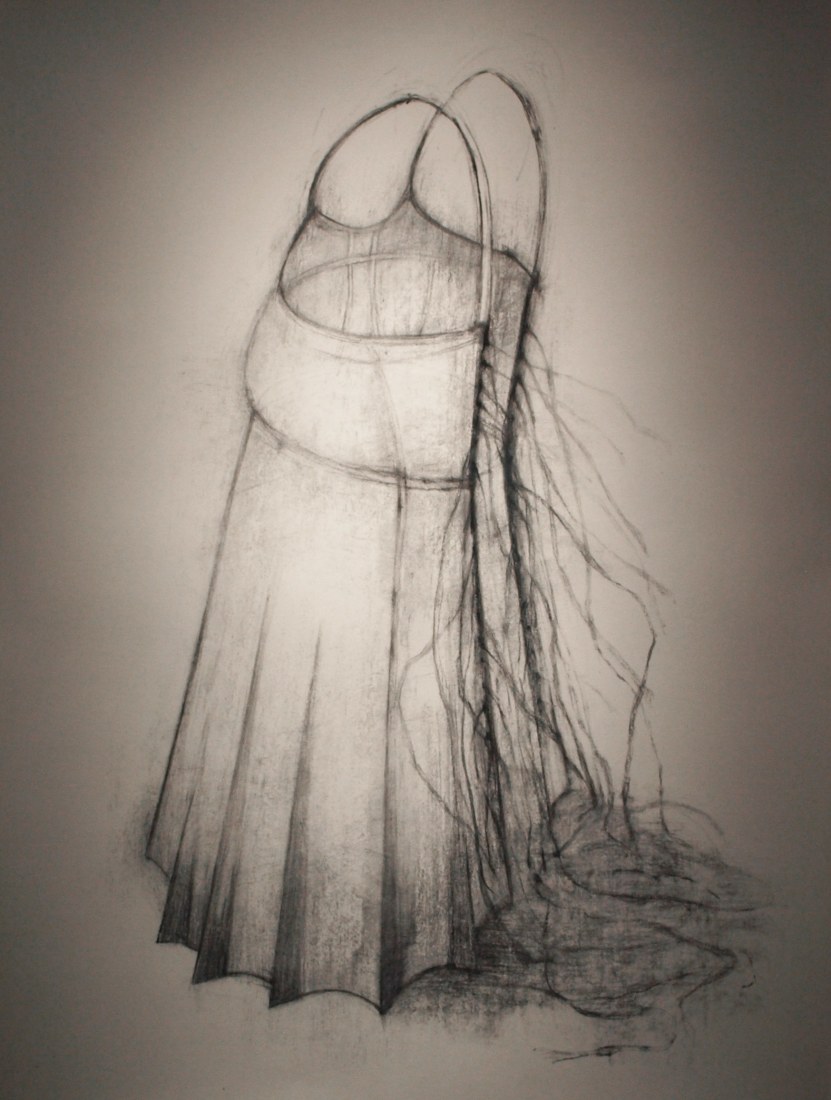 Risham Syed incorporates uniforms that have been witness to longer journeys; the artist uses army coats found in the second-hand market in Lahore and embroiders them with signs of their travels. In Ayesha Jatoi's works, a red shalwar marking the suffering of a teenage girl flogged publicly in the Taliban-dominated Swat region in Pakistan is painted onto a barely visible drawing while photographs from the performance show women's clothing washed and hung to dry on fighter jet in the city center. Hasnat Mehmood's scratched and textured wall installation that brings to surface what is normally hidden underneath. Through her photographs, drawings, and sculptures Naiza Khan also reveals the often concealed – the intimate clothing and undercover protective gear to explore the vulnerability and strength of a woman's body. Adeela Suleman's colorful armor is both strong and beautiful, offering multidimensional views of the roles that women play in society. Farheen Haq's video shows that accessories like a veil offer a shield against the unwanted comments of strangers and friends but can also burden a person with their cultural significance. Clothing and accessories are also markers of individuals and groups in Nizakat Ali's work; he paints the diverse group of people that he encounters on his long railway journey from Lahore to interior Sindh. Akbar Ali wraps figures tightly with material to symbolize identities that people are unwilling to shed or those that have been strapped on to them. Like clothing that comes off the body, the eight artists in "The Emperor's New Clothes", while exposing the stereotypes of Pakistani society inside out, provide us with a rich and complex visual experience.