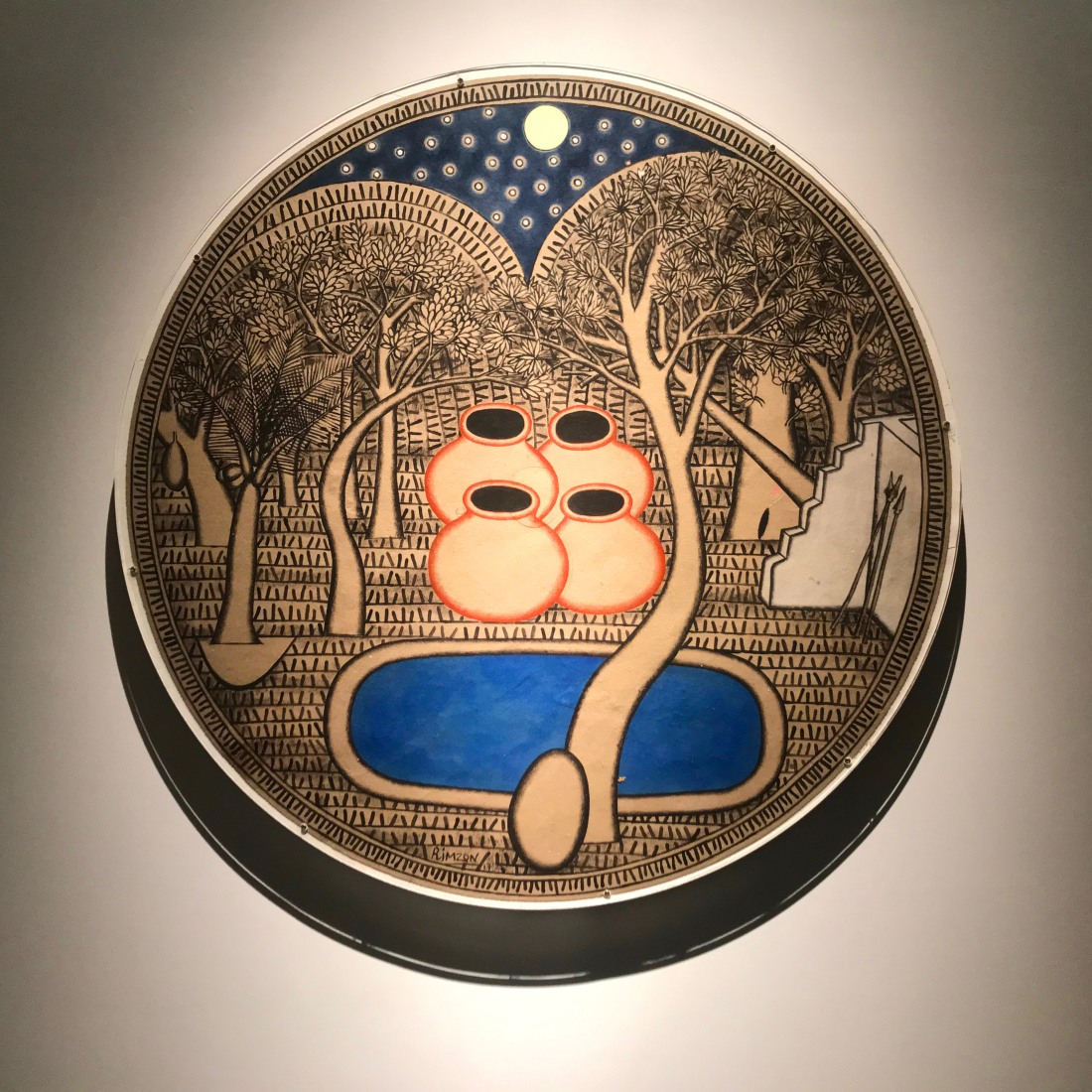 The works in The Round Ocean and the Living Death emerge from Rimzon's career-long effort to craft an artistic language that speaks with the still, timeless power of India's centuries-old belief systems and making traditions—and yet speaks to the complexities of Indian life today. In the direct, unadorned markings of his works on paper and canvas, or the quietly evocative forms of his sculptural works, Rimzon creates a deeply meditative space for contemplation—a space not removed from the world, but that offers a slower, more considered, and definitively less polemical take on it. A monumental sculpture, The Round Ocean and the Living Death, similarly deploys a recognizable form: a mother-goddess figure, seated and cross-legged at the center of a circle, still power. Like the gentle, belly-like swell of Secret Body, punctuated by the recess of the navel, the seven-breasted deity figure evokes a quiet yet commanding power—generative as well as protective. Her outstretched blood red palm and eyes seem to hold life, balanced, over a circular abyss. This deity figure appears also in the exhibition's painting, whose simplicity belies a complex interweaving of multiple perspectives and deeply mysterious iconography—set, like other cosmological drawings, within a circular frame. As in all of Rimzon's work, these works demand no particular creed or set of knowledge to engage with them. Open-ended and multivalent, they reference a moment before man-made divisions of color, religion, and nationality separated humankind.
"Once again, the artist harnesses the power of spare line and multiple perspectives within a single frame to beguile the viewer. In bringing together the sacred and the carnal, Rimzon underscores the regenerative energies that such a union could potentially release."
Artforum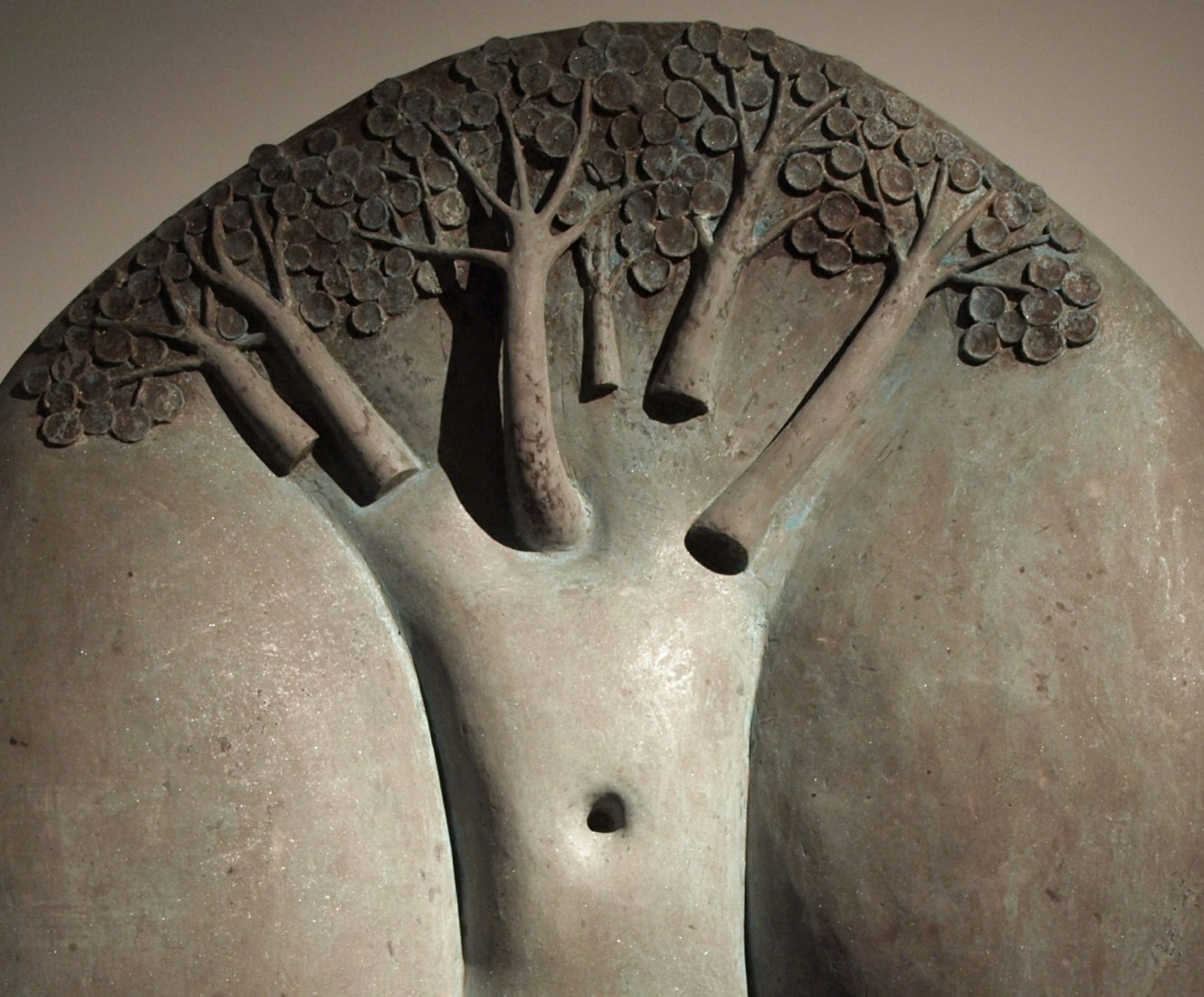 N.N. Rimzon's works have been exhibited at institutions worldwide including the National Museum of Modern and Contemporary Art, Seoul, Korea; 5th Beijing International Art Biennale, National Art Museum of China; Museum of Modern Art, (MuHKA), Antwerp, Belgium; 2nd Asia – Pacific Triennial of Contemporary Art (APT), Queensland Art Gallery, Brisbane, Australia; Kiran Nadar Museum of Art (KNMA), Delhi, India; Museo de Arte Contemporáneo de Monterrey (MARCO), Mexico; Berkeley Art Museum (BAM), Berkeley, CA; Art Gallery of New South Wales (AGNSW), Sydney, Australia; Busan Biennale, South Korea; Art Gallery of Western Australia, Perth; Asia Society, New York, NY; Queens Museum of Art, New York, NY; Singapore Art Museum; Taipei Fine Arts Museum, Taiwan; National Gallery of Modern Art (NGMA), Mumbai, India and The Stedelijk Museum, Amsterdam, Netherlands.
Rimzon earned a Bachelor of Fine Arts (BFA) in sculpture from the College of Fine Arts, Trivandrum (1982), a Masters of Fine Arts in sculpture at Maharaja Sayajirao University, Baroda (1984) and a Masters of Arts from the Royal College of Art, London (1989).